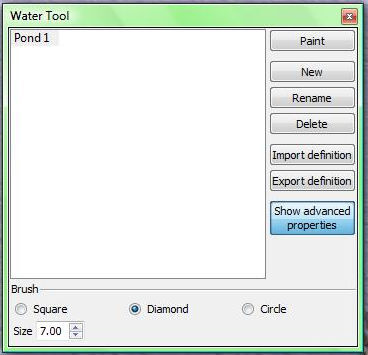 With the Water Tool you can create small ponds or big lakes.
New - creates a new water layer. Rename - if you want to rename the autonamed water layer click at this button. Delete - erases a water layer. Paint - paints the water like blockbits on the map. Import definition - opens a directory with predefined water settings. Export definition - a possibility to save your own water setting. Show advanced properties - opens new parameter options at the entity property window. The Brushsettings are working like the default ones, explained earlier, but there is one difference.For more information, click here.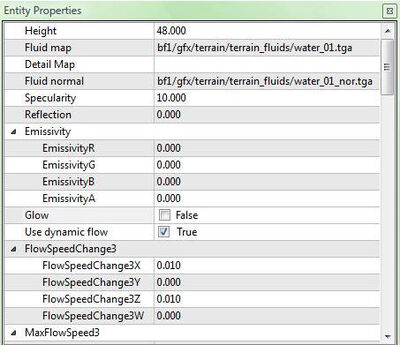 Before you can start to paint a water layer you need a basin where you can fill in the water. An easy way is to create a cliff and build it in the ground.
I used 45m height brush at my 50m ground zero map and create a greenland cliff by using the "greenland_cliff_01" setting. For more informations about the Territory Cliff Tool click here.
After creating the basin for my pond I open the Water Tool and create a New water layer and renamed it with "Pond 1". Then I open the Entity Property Window and select my water layer "Pond 1".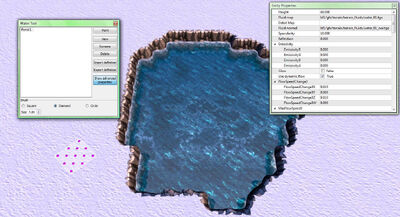 After that I changed the Height parameter. The Height paramter will represent the waterline you want to paint. I change it from 50m to 48 meters, because my ground zero is 50m and your waterline have to be under 50m, otherwise the water has no cliff border. The I click at the paint button at the Water Tool and Paint the water between the cliffs by clicking the lmb.
Now you will see your pond filled with water. To change the water setup you can import a water definition from EA Phenomic, clicking at the Import Definition and choose one of the them. For my example I choose the "frozen_water_01.xml". Another possibility is to click at the Show Advanced Properties Window, which will open a lot of parameters at the Entity Property Window.