The Soultree

Scenario Overview
# Players
Single-player
Difficulty
Standard, Advanced, Expert
The Soultree is a single-player map. It can be played on standard, advanced, and expert difficulties.
The Soultree

Don't let the Twilight cross the Titan's wall
Aid Viridya in reaching the Soultree
The fortification on the Wall might save the People of Lyr, if only for a while
Walkthrough
Edit
<TODO: If standard difficulty is available, provide walkthrough>
Standard Walkthrough Subsection 1
Edit
Standard Walkthrough Subsection 2
Edit
<TODO: If Advanced difficulty is available, provide walkthrough>
Advanced Walkthrough Subsection 1
Edit
Advanced Walkthrough Subsection 2
Edit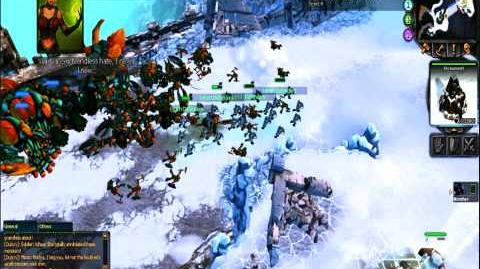 Expert Walkthrough Subsection 1
Edit
My algorithm for expert (please change as like) (Fire,Shadow, Nature, Frost)
1. After Viridya talks, send these Lyrish Defenders on wall. You need all 6 units on wall.
Put 1 unit of Shadow T1 archer (Nox Trooper is recommended) behind.
First wave will be fine. After wave manuever archer behind to monument and 2 wells.
Reform Defenders on wall in another order.
2nd wave follows. Right after wave go on wall construct both wells and use archer to shoot in one of enemy archer units.
2nd wave will be fine.
After the words "The Twilights returns" put up Shadow orb. Dont forget to retreat the Defenders a bit.
Viridya will cast a spell to keep Twilight frozen for a while.
Use Defenders to come close to Horde and build a Stone of Torment. Fall back and shoot some of the Horde vanguard.
Meanwhile put a Resource Boosters near wells.
Well, the horde is done -- retreat the Defenders to first orb. Dont forget to destroy the Stone of Torment.
2. Put Resource Booster near freed wells.
Constcruct Nature Orb.
Near first Orb put Breeding Grounds.
Summon 3 Mutating Frenzy and T3 Ranged support (Deepcoil worm is good or 2 Swamp Drakes)
Destroy Breeding Grounds/
Assist Viridya.
Try to lure northernmost fighters to Viridya. Use Healing spells as needed. (I used 1 Surge of Light and 1 Ray of Light)
Follow Viridya.
(I used in this fight 1 Curse of Oink, 3 Surge of Light, 1 Ray of Light and 1 Unholy Power (on 1st Mutating Frenzy)
3. Build well and 4th Orb. (I used Frost)
Careful control with T3 creatures can be done so what they healed by well and orb, but Viridya cant damage well or orb.
Put Breeding Grounds near 2nd Orb.
You can summon T4. (I summoned Construct, Giant Wyrm, Grimvine)
Combine forces.
Summon 1 more Giant Wyrm.
Rest is clear. Use Regrowth and You will be fine.
Expert Walkthrough Subsection 2
Edit
For completing this scenario, players are granted some PvE Experience Points, Gold, and two Upgrade Cards.
Community content is available under
CC-BY-SA
unless otherwise noted.