For card listings, see Category:Frost Cards.
For a printable card list, see Printable Frost Cards List.
"One of the younger elemental powers. Frost was created by the winds and the mists to stop the invasion of Ancients who came to turn the world into one sinister, endless city. It covered the Ancients' city and stone constructs in a deep layer of ice then slowly ground them to dust. Since then it has become the power of protection, a stalwart, frozen shield that slowly but steadily achieves its goals."

-The Elemental Powers
Frost is one of the four playable Elements in BattleForge. It is represented with the color blue and all Frost cards have a blue border.
Card Overview
Edit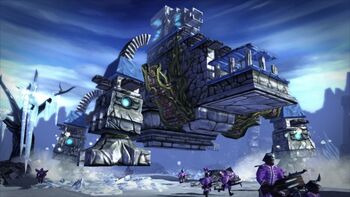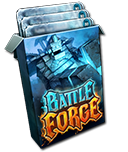 Frost is primarily a defensive Faction. Frost has a large number of Tower and Building protection and repair Spells and Abilities. Additionally, many Frost cards get bonuses while near friendly buildings.
Keeping with the defensive theme, many Frost units have a high health value and a lower attack value. Frost also lacks a First Era Swift Creature and requires a different early game play style than the other factions due to this fact.
One of Frost's main advantages is aerial combat. They have arguably the best anti-air unit in the game and pure Frost possesses one of the best air-to-ground units as well.
While Nature has healing spells to keep its units alive, many Frost units either have Ice Shields that absorb damage or can grant Ice Shields to other Creatures.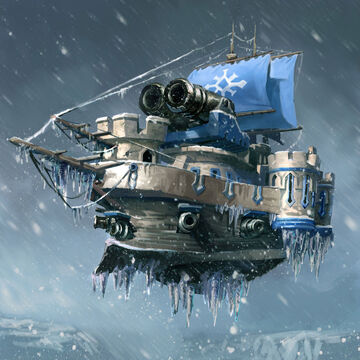 Promotional video released by EA Games to showcase Frost units
First Era Frost
Edit
Creatures
Buildings
Spells
Common

Northguards
Imperials
Master Archers
Ice Barrier
Defense Tower
Glacier Shell
Uncommon

Frost Mage
Frost Sorceress
Construction Hut
Glyph of Frost
Rare

Ice Guardian
Ice Shield Tower
Home Soil
Second Era Frost
Edit
Creatures
Buildings
Spells
Common

Phalanx
Defenders
Cannon Tower
Kobold Trick
Uncommon

Lyrish Knight
White Rangers
Juice Tank
Kobold Laboratory
Coldsnap
Rare

Skyelf Templar
War Eagle
Frost Crystal
Area Ice Shield
Ultra-Rare

Mountaineer
Third Era Frost
Edit
Creatures
Buildings
Spells
Common

Silverwind Lancers
Tremor
Shield Building
Uncommon

Kobold Engineer
Armored Tower
Retreating Circle
Rare

Timeless One
Skyelf Sage
Shrine of Martyrs
Ward of the North
Ultra-Rare

Avatar of Frost
Stronghold
Frost Shard
Fourth Era Frost
Edit
Creatures
Buildings
Spells
Common

Tempest
Shatter Ice
Uncommon

Winter Witch
Construct
Maelstrom
Rare

Skyelf Commander
Battleship
Worldbreaker Gun
Ice Tornado
Ultra-Rare

Dreadnought
Premium Frost
Edit
Renegade offers many dual-faction cards; for cards with Frost as one of the two orb requirements, see Category:Stonekin Cards
First Era Frost
Edit
Second Era Frost
Edit
Third Era Frost
Edit
Fourth Era Frost
Edit
Lost Souls offers many dual-faction cards; for cards with Frost as one of the two orb requirements, see Category:Stonekin Cards and Category:Lost Souls
First Era Frost
Edit
Second Era Frost
Edit
Third Era Frost
Edit
Fourth Era Frost
Edit
First Era Frost
Edit
Second Era Frost
Edit
Third Era Frost
Edit
Fourth Era Frost
Edit