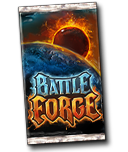 Like any Trading Card Game, a Booster, aka Booster Pack, is the package of cards that can be purchased. Players buy boosters to boost, or add, new cards to their collection.
Orginally Tomes could be purchased that contained 6 Booster Packs, that could be opened and added you your collection. But this feature was later removed and now can only be used for a limited duration, after they expire you loose the cards all together.
General Info
Edit
In BattleForge, players buy cards from the Marketplace window in the BattleForge game client. A booster costs 450 BF points. Simple random card costs 2 BF points. Once purchased, unopened booster packs are placed in the player's Inventory window.
To add the cards to their general collection, the player opens the booster. Alternatively, the player can create a tome collection with six unopened boosters. To do this, players must create a new deck and select Tome deck. At this point, they must click the Register Tome Collection button. A new window opens that allows the player can assign unopened boosters into the tome collection.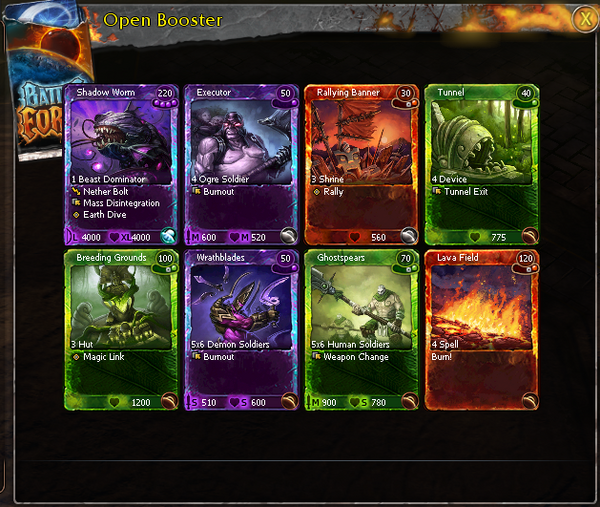 Booster Composition
Edit
Each booster consists of eight cards: one Rare or Ultra-Rare card, two Uncommon cards, and five Common cards. Ultra-Rare cards are found in one out of six booster packs.
Random simple card
Edit
This is uncommon card or common card (but you must have luck).
When BattleForge went live, players could auction and purchase boosters from other players. However, this ability was removed in the first patch.
- If you are looking for a certain card, and that specific card only, don't buy boosters to attempt to get it. It is generally cheaper to buy most cards through the auction house. This may not apply to extremely expensive Ultra-Rares, like Enlightenment. Check the auctions periodically over several days to find the best price.
.

Community content is available under
CC-BY-SA
unless otherwise noted.