Abbreviations
Edit
Notations
Edit
There are a variety of notations used when discussing BattleForge.
Era is typically denoted with T1, T2, T3, and T4. The 'T' is short for Tier, a common term in many RTS games. Basically, it is a way of specifying the number of Orbs required to play a card.
Upgrades
Edit
Upgrades are typically denoted with U0, U1, U2, U3. Charge upgrades can be denoted with a '+' plus sign. e.g. U2++ is a card upgraded to the second upgrade with both charge upgrades applied as well. Sometimes a 'L' is used instead of 'U'. It is not recommended that 't' be used. It causes confusion with the 'T' for Tier.
Orb Requirements
Edit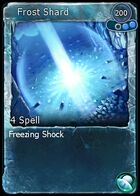 The Orb cost of playing a card can be denoted using a system similar to Magic the Gathering. A system of color abbreviations is used to represent each faction:
Finally, colorless (wild card) orb requirements are represented with either a number or a '*'.
For example, Frost Shard is a T3 Frost Spell that requires two Frost orb and one orb of any color. This orb requirement is represented as 1BB or BB*.
Deck Makeup
Edit
Denoting which Orbs a deck needs at each tier can be done in a similar manner to the orb requirements for cards. The same system of color abbreviations is used and the result is typically enclosed in parentheses. For example a mixed Fire/Nature deck that went T1 Fire, T2 Nature, T3 Fire, T4 Nature could be denoted with "(RGRG)"
Main article: Buff
A spell or ability that boosts a Creature's performance.
Main article: Kite
To lure an enemy around constantly while you kill it with a ranged attack.
To draw or lure an enemy into a killzone.
Either the act of or ability to absorb a great deal of damage. Typically to protect more fragile allies.
.

Community content is available under
CC-BY-SA
unless otherwise noted.